2014 Farm Tour
In August, I organized a three-day, district-wide farm tour that included 20 stops at local producers, co-op markets, and food distribution centers. I was happy that U.S. Department of Agriculture (USDA) Under Secretary for Marketing and Regulatory Programs Edward Avalos, MA Secretary of Energy and Environmental Affairs Maeve Vallely Bartlett, and MA Commissioner of Agriculture Greg Watson were able to accompany me on the tour. We were also joined by a number of elected officials, local organizations and representatives from both state and federal agencies.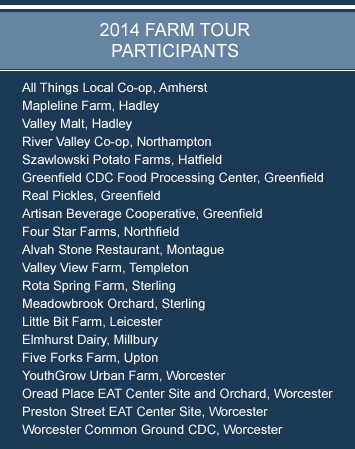 Over the 3-day tour, I was able to talk with new farmers who are pushing the limits of what can be grown here in Massachusetts as well as generations-old family farms that are still going strong today. I was amazed to find eggplants growing in abundance in the streets of Worcester and hops growing sky-high in the Pioneer Valley.
Local producers are collaborating with farmers every chance they get in order to use the freshest ingredients possible. On the tour, I had the opportunity to go "behind the scenes" to see how many of the products that we see on our local co-op shelves or at our local farmers' markets are made. I also had the opportunity to sample many of these products, which were, in a word, delicious.  
I was heartened to hear that many of you are giving back to the community in countless ways, including providing surplus produce to local food pantries. It is my strong believe that everyone in this country should have access to healthy, local food. Your passion for the land and your hard work are helping to make that happen.
Under Secretary Avalos and I were grateful to have the opportunity to meet with so many of you to talk about how the government can help support local farm economies. The latest Farm Bill included several provisions specifically aimed at helping local farms, including the Farmers Market and Local Food Promotion Program that is designed to increase domestic consumption of, and access to, locally and regionally produced agricultural products. It also assists in the development, improvement, and expansion of, domestic farmers markets, roadside stands, community-supported agriculture programs, agritourism activities, and other direct producer-to-consumer market opportunities. You can learn more about the implementation 2014 Farm Bill, by clicking here.
You can view photos of the 2014 Farm Tour here. 
You can read more about the 2014 Farm Tour here.