McGovern, Clark Join 25 Members of Congress in Flint to Meet with Families Affected by Water Crisis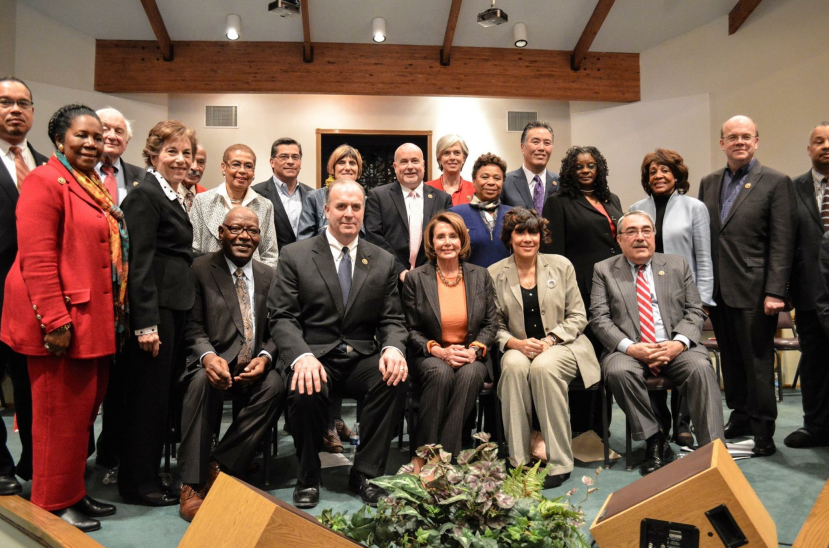 FLINT, MI – Representatives Jim McGovern (MA-02) and Katherine Clark (MA-05) joined a congressional delegation to Flint, Michigan, to hear directly from residents affected by the city's ongoing water crisis. In addition to McGovern and Clark, the twenty-five other Members of Congress joined the trip to Flint, including Democratic Leader Nancy Pelosi (CA-12), Assistant Democratic Leader James E. Clyburn (SC-06), and leaders of the Congressional Black Caucus and Congressional Progressive Caucus.
While in Flint, the members toured the city and held a 'Speak Out' to hear directly from families affected by the water crisis. The members also received a briefing from Dr. Nicole Lurie, the Assistant Secretary for Preparedness Response at the U.S. Department of Health and Human Services, that provided an update on current federal response efforts. The briefing also allowed the members to discuss additional resources needed in Flint.
Congressman Jim McGovern (MA-02) said: "Americans across the country are outraged by the tragedy here in Flint. As Dr. King once said, 'injustice anywhere is a threat to justice everywhere.' We simply cannot stand by while our fellow Americans – including thousands of innocent children – are suffering. We are here today because we wanted to meet with the local leaders and families who are confronting this crisis, hear their stories, and stand up for them in Washington. Congressman Kildee is a powerful champion for these families and we are proud to join him in this effort to ensure that justice is done. Flint families deserve answers from the leaders who failed them and solutions that will help them recover. We are committed to doing everything we can in Congress to send the resources they need and ensure that those who are responsible will be held accountable. The families of Flint deserve nothing less."
Congresswoman Katherine Clark (MA-05) said: "As a mom, I can't imagine the horror parents must have felt after learning their children were being poisoned by the water coming into their homes and schools. It's outrageous that it takes an emergency like this to underscore that vulnerable families are hit hardest when budgets are slashed without regard for health and safety. I want my colleagues to hear the stories we bring back from Flint so that we can ensure the resources that Flint's families need to care for their children, fix the problem permanently, and make sure this never happens again to any of our nation's children."         
EFFORTS IN CONGRESS
Last month, Congressman McGovern co-sponsored legislation in the U.S. House of Representatives in response to the Flint water crisis, focusing on immediate and long-term investments for Flint. The Families of Flint Act would make critical investments in infrastructure repairs, wrap-around services for families and children exposed to lead, economic development for Flint and long-term health monitoring for city residents. Since the decision to switch the city of Flint's water source was made by a state-appointed emergency financial manager, the legislation would require state-matching funds equal to the total of the federal bill.
Additionally, the U.S. House of Representatives has already passed the bipartisan Safe Drinking Water Improved Compliance Awareness Act, which would strengthen requirements to have the U.S. Environmental Protection Agency (EPA) step in to notify the public when concentrations of lead in drinking water are above federal requirements. The bill, supported overwhelmingly by Democrats and Republicans, passed the House 416 to 2 on February 10, 2016.
In addition to Representatives McGovern and Clark, the congressional delegation to Flint included: Democratic Leader Pelosi, Assistant Democratic Leader Clyburn, House Democratic Chairman Xavier Becerra (CA-34), Senator Debbie Stabenow (D-MI) and Representatives Dan Kildee, Keith Ellison (MN-05), G.K. Butterfield (NC-01), Rosa DeLauro (CT-03), John Conyers (MI-13), Sander Levin (MI-09), Debbie Dingell (MI-12), Brenda Lawrence (MI-14), , Yvette Clarke (NY-09), Susan Davis (CA-53), Eleanor Holmes Norton (DC), Sheila Jackson Lee (TX-18), Barbara Lee (CA-13), Gwen Moore (WI-04), Donald M. Payne Jr. (NJ-10), Mark Pocan (WI-02), Jan Schakowsky (IL-09), Bobby Scott (VA-03), and Maxine Waters (CA-43)
Congressman Dan Kildee (MI-05) said: "Flint is a strong community and our families are tough people. "While this crisis is a setback for our community, I know we will emerge from this tragedy. Flint families just need the resources to overcome this crisis. State decisions created this crisis, and the state of Michigan must step up and do more to help. The federal government, including the President and numerous federal agencies, has already helped in many ways. Congress should also act without delay to help Flint recover from this man-made crisis."
House Democratic Chairman Xavier Becerra (CA-34) said: "No parent should have to worry about the water their kids drink or the safety of their back yards. It's outrageous that lead poisoning is an ongoing issue affecting families in Flint and across the country. In the Los Angeles area, including in my district, we are confronting a possible environmental crisis due to contamination from a lead battery plant that could affect up to 10,000 homes.  Families want solutions and they need action now." 
Congressional Progressive Caucus Co-Chairman Keith Ellison (MN-05) said: "What is happening to families in Flint is a tragedy. Every level of government must act in a coordinated effort to solve this crisis. Members of Congress are going to Flint to listen to residents directly and see first-hand what their needs are. With investments in health, education and infrastructure, the children of Flint can live successful, healthy lives. We cannot turn our backs on them, or the children of any other city like it. We must act."
Congressional Black Caucus Chairman G.K. Butterfield (NC-01): "The CBC was among the first to demand a thorough federal investigation of the Flint water crisis and we will be visiting with Flint families to further amplify the urgency of this health and environmental crisis. The harm experienced by the residents of Flint is irreversible and multi-generational. Governor Snyder has been a central figure in the decision-making process that led to the water crisis and we look forward to his testimony before the Committee.  The lack of oversight and accountability demands a thorough investigation and we have come to Flint to remind them that elected officials will not ignore this crisis. We will hold the right parties accountable for the lack of oversight and accountability that has led to more than 10,000 children unknowingly being exposed to dangerous amounts of lead in their drinking water. This crisis demands more and we must all do our part to ensure the citizens of Flint have the resources they need, both in the short- and long-term."
###