[firstname],


One hundred years ago today, the U.S. House of Representatives moved us one step closer to equality by passing the 19th Amendment granting women the right to vote.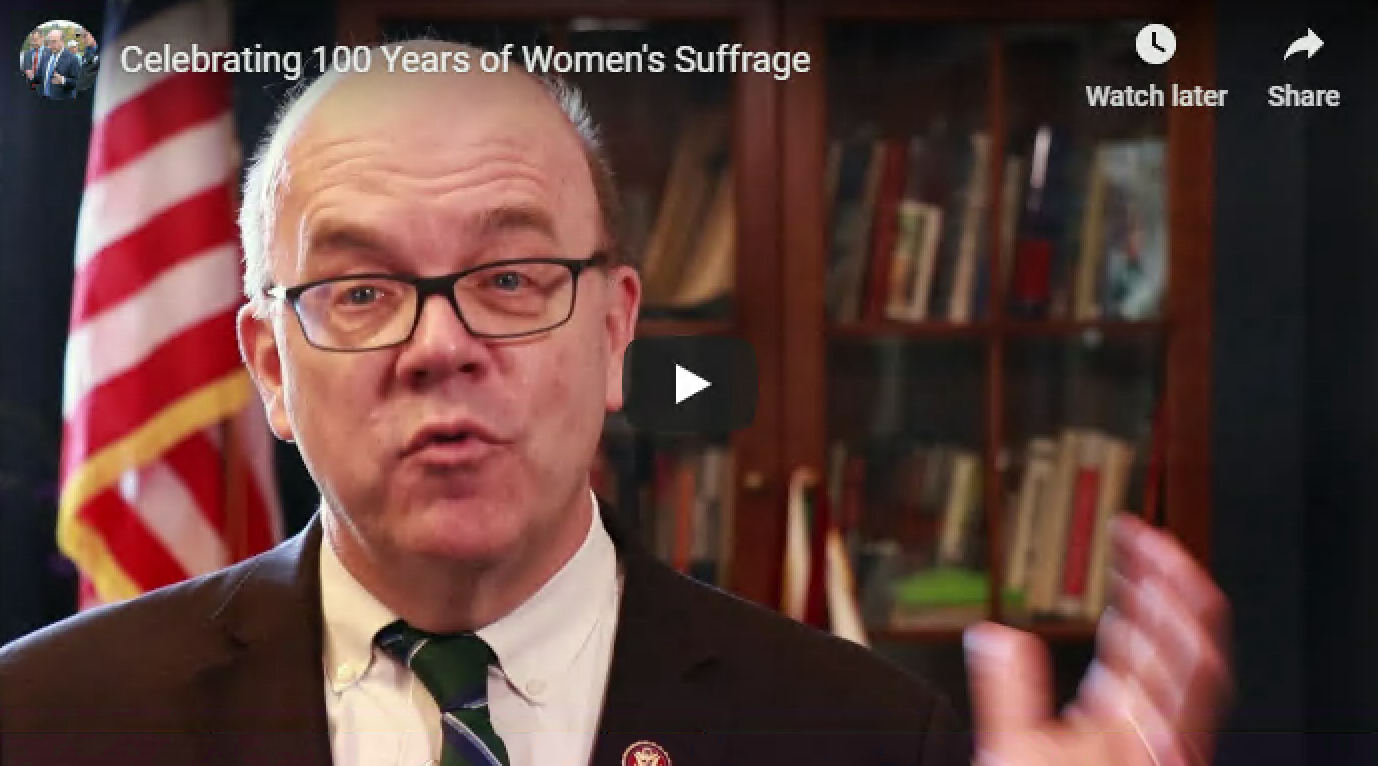 Click the image to watch the Congressman's remarks on YouTube
This was just the beginning, of course – the Senate still had to pass the bill, and ratification required three-fourths of the states to support women's suffrage. And it would still be decades before many women of color fully realized the right to vote due to systematic efforts to disenfranchise them – even after the amendment was adopted. But its passage was a tremendous moment that ushered us one step closer to a more perfect union.
Today, I was proud to join my colleagues in celebrating tat historic vote by passing a bipartisan resolution to commemorate and celebrate the 19th Amendment and honor the courageous women who fought for the basic American principle that every person is important, and voice matters.
The right to vote for women is not at all controversial today. But in 1848, when the first women's rights convention was held in Seneca Falls, New York, the issue was so contentious that the group of mostly women only narrowly passed voting rights for women in their statement of sentiments.
Some of the leaders of this movement are known to us: people like like Susan B. Anthony, Elizabeth Cady Stanton and Ida B. Wells. Others trace their roots to Massachusetts' Second Congressional District.
Abby Kelley Foster was born in Pelham, Massachusetts in 1811 and was a major figure in both the abolitionist and suffrage movement, spending more than twenty years traveling the country as a tireless crusader for social justice and equality for all.
"Go where you are least wanted, for there you are most needed," Abby used to say all the time, and her motto is still a creed for all of us to live by. Abby's efforts were among those that helped lay the groundwork for the 19th Amendment.
We are beginning to see the full bloom of the seeds these pioneering women planted a century ago. This year, we welcomed more women to the U.S. Congress than at any point in history. What a wonderful tribute not only to Abby Kelley Foster, but also to the thousands of other women – many whose names we will never know – who gave heart and courage to the fight for full equality.
As we mark this important milestone, we must remember that the struggle for full participation in our Democracy is far from over. We must rededicate ourselves to the suffragette's cause and pick up their baton to ensure that every single woman – and every single American – is fully able to participate in our Democracy.