PHOTO: McGovern Leads Opioid Task Force Event in Greenfield with State, Local Leaders
Greenfield, MA, October 5, 2015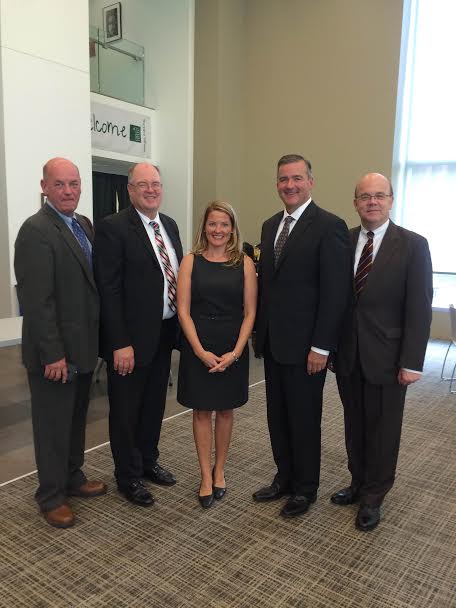 Today, Congressman Jim McGovern (MA-02) joined national, state, and local leaders at Greenfield Community College for an Opioid Task Force event to talk about the opioid crisis in Massachusetts and the work of elected and community leaders to address it. The event was titled, "Federal, State and Local Perspectives on the Opioid Crisis: Accomplishments, Challenges and Priorities," and focused on progress made and the work ahead.
Pictured Above (From Left to Right): Opioid Task Force of Franklin County and the North Quabbin Region Co-Chairs: Franklin Registrar John Merrigan, Northwestern District Attorney David Sullivan, Opioid Task Force Director Marisa Hebble, Franklin County Sheriff Christopher Donelan, and Congressman Jim McGovern.
Following are excerpts from Congressman McGovern's remarks today:
"For families here and throughout Massachusetts and New England, we know just how serious the opioid epidemic is. Our communities and our families are the ones who are hurting and it is essential that we all come together to put an end to this crisis. I am especially grateful to the Opioid Task Forces of Franklin County and the North Quabbin Region for helping to organize this important event and for all of the partnering Task Forces that are here today.
"Last week, I had the pleasure to announce a $393,928 Grant from the Department of Justice to support efforts fighting the opioid crisis in the City of Worcester. Last month, our district received additional federal funding through a $100k grant from the Health Resources and Services Administration's Opioid Overdose Reversal Grant Program for Baystate Franklin Medical Center.
"In the past year, I have worked tirelessly to make sure your voices are heard in Washington, co-sponsoring three different bills and joining my House Colleagues to call on administration officials to ensure all of our communities are receiving the federal funds needed to address this crisis.
"Prevention efforts are key to tackling this epidemic and we must equip our young people with the skills necessary to identify constructive ways to deal with problems so that turning to drugs is never an option. […] We must make every effort to ensure that treatment is available to those who seek it. Because it takes courage and strength to admit that you need help."
ATTENDING TODAY
Joining Congressman McGovern today were the following national, state, and local leaders:
Mary Lou Leary – Deputy Director of State, Local and Tribal Affairs from the White House's Office of National Drug Control Policy
Office of the Attorney General, Amy Karangekis, Assistant Attorney General
Dr. Monica Bharel, Commissioner, Massachusetts Department of Public Health
State Representatives Paul Mark, Stephen Kulik and Susannah Whipps Lee
Opioid Task force Co-Chairs: Registrar John Merrigan, Franklin County Sherriff Chris Donelan, and Northwestern District Attorney David Sullivan
Kat Allen, Coordinator, Partnership For Youth, Franklin Regional Council of Governments
Tim Purington, Director of Prevention Services, Tapestry Health
Levin Schwartz, Director of Clinical and Reentry Services, Franklin County Sheriff's Office
Dr. Robert Roose, Chief Medical Officer of Addiction Services Providence Behavioral Health Hospital
Abbi Cushing, Recovery Coach, Recovery Support Specialists
BACKGROUND:
Opiate abuse in the 47 communities in Franklin and Hampshire counties has increased dramatically in recent years. Since 2011, opioid overdoses have risen 280 percent. The number of deaths in 2011 has gone from 13 to 46 in 2013 and first 3 months of 2014. The opioid fatality rate has gone from 5.4 per 100,000 to 21.5 per 100,000. This is far above the 2011 national average of 12.2 and the Massachusetts rate of 10.1.
Because of the high cost of prescription drugs, many prescription drug addicts are turning to heroin as it sells for 4-5 dollars per bag. On March 27, 2014, Massachusetts Governor Deval Patrick declared a public health state of emergency in response to the increase in opiate abuse across Massachusetts.
###