McGovern Joins Opening of New Kilby-Gardner-Hammond Athletic Field and Track
McGovern Secured Funds for Surrounding Bike Path, Worked with Local Leaders to Move Field and Track Project Forward
Worcester, MA, October 13, 2016
Today Congressman Jim McGovern (MA-02) joined local leaders from the Main South Community Development Corporation, the Boys & Girls Club of Worcester and Clark University to celebrate the completion of the new field and track with a dedication at 65 Tainter Street. Congressman McGovern secured nearly $3 million in federal funding to create the lighted bike path that surrounds the track and was designed to provide additional pedestrian and bike access to the Boys and Girls Club for the Main South neighborhood.
"Today is a truly exciting day. This new field and track will expand access to green spaces for local families and give kids new opportunities for outdoor recreation and positive afterschool activities," Congressman McGovern said. "The successful completion of this project is another strong step toward a rejuvenated Main South. I was proud to help bring federal dollars back to our district to invest in the bike path around the track and I am grateful to work with such great partners in the City, Clark University, the Boys and Girls Club and the Main South Community Development Corporation to help us revitalize this neighborhood. Together we are building a strong and vibrant community for all of our families."
Opening the new field marks the culmination of the Kilby-Gardner-Hammond project, begun in the late 1990s. The project so far comprises more than 100 new housing units, the $9.2 million Boys & Girls Club, and the new, $3 million field and track. This facility will be used by Clark University for intercollegiate, club, intramural, and recreation sports. It will also be shared with the Boys and Girls Club, giving the young people there an essential outdoor play space.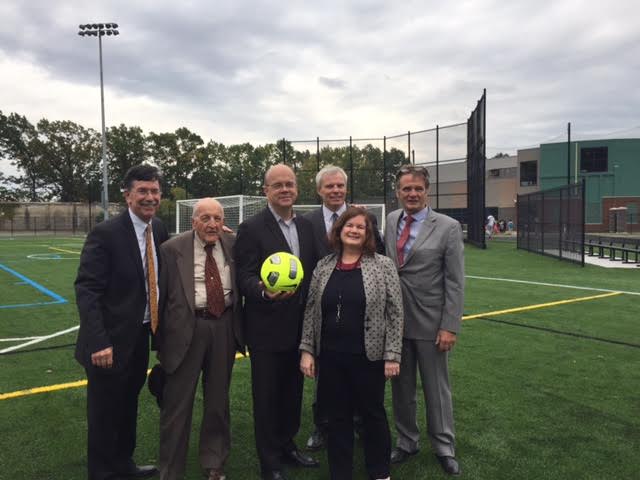 Caption: (From Left to Right) Jack Foley (Clark University Assistant Secretary to the Board), Dusty Miller (Boys & Girls Club of Worcester Board Member), Congressman McGovern, David Angel (Clark University President), Liz Hamilton (Boys & Girls Club of Worcester Executive Director), and Steve Teasdale (Executive Director of the Main South CDC).
Joining Congressman McGovern at the ceremonies today were Stephen Teasdale, Executive Director of the Main South CDC; David Angel, President of Clark University; and Liz Hamilton, Executive Director of the Boys & Girls Club of Worcester, and other local leaders.
"This field represents just the latest in a long history of successful partnering between Clark and our neighbors in Main South," President Angel said. "The investments of our community along with city, state and federal agencies, private investment and development firms have resulted in a successful revitalization project sure to benefit all."
"We're thrilled to cut the ribbon and officially help Clark University open their new collegiate field, located next to our Harrington Clubhouse," writes Hamilton. "This field will create opportunities for our kids we've never been able to provide in the past. We're extremely appreciative of Clark for allowing our Club to utilize the field to offer sports such as snow-shoeing, lacrosse, track, and flag football."
After officials finish their remarks, they plan to toss and kick soccer balls onto the new field for the club kids to "kick off" the new playing field.
The field and track project is another in a series of collaborations between the Main South CDC, the city, federal and state government and Clark University to revitalize Main South.
The nearly $3 million project secured by McGovern for the bike path project also included roadway improvements identified for Kilby and Gardner streets, including street light modifications, sidewalk replacement, curb resetting, roadway mill and overlay, and full depth pavement repairs as necessary. Improvements in the project also included additional crosswalks and shared roadway markings to tie the improvements into the bike path.
###