America's economic system is broken. Over the last half century, failed trickle-down policies have given tax cut after tax cut to those at the top while wages for working people have stagnated.
Worker productivity has risen steadily, yet the share of our national income that goes to labor is near its lowest point in almost 70 years.
This is about more than just dollars and cents, it's about the character of our country. I was raised in a middle-class family in Worcester, Massachusetts. My mom was a dance instructor; my parents owned a small business. In my neighborhood, tough decisions had to be made when bills came in or prices at the store went up. My parents raised my sisters and me to believe in public service and the value of hard work and giving back.

The deal back then was that if you worked hard and played by the rules, it was possible to build a better life. But that promise has been broken by years of failed trickle-down policies and politicians who pass tax breaks that reward wealth instead of work.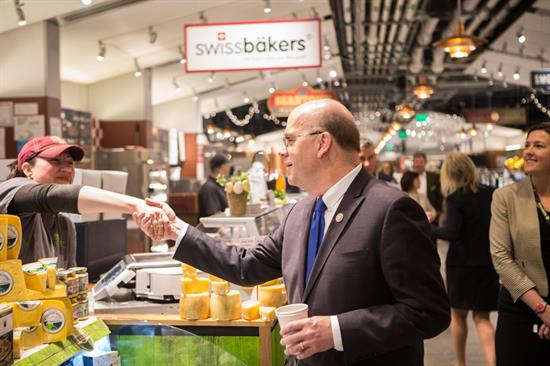 "By the time I got to Congress, families were already in deep trouble. The truth is powerful special interests and corporate lobbyists have spent a long time making sure the system works for them, not for us.

This didn't happen overnight, and it won't be changed overnight. But I believe we can and must keep working to change the status quo and rebuild our economy from the middle out and the bottom up."
My top priority in Congress is fundamentally changing the economic direction of this country. I want every single person to have the kind of hope and opportunity I had as a kid growing up in Worcester, Massachusetts. Here are some of the ideas I have for how we can do it:
Expand Public Investment in Infrastructure and Education
A key reason that our economy has left the middle class behind is that too many politicians have spent decades demonizing funding for public investment in all the things that help folks get ahead—things like schools, libraries, roads, bridges, internet access, clean air and water, building a strong manufacturing base and giving families the tools they need to get ahead. Public investment in our economy used to be 7% — today, it's less than half that. Thankfully, that is changing. In Congress, I've helped bring to the floor and pass critical pieces of legislation to reverse this decades-long trend, including:
The CHIPS and Science Act: which invests research and development, bringing jobs back from overseas and increasing American manufacturing.
The Bipartisan Infrastructure Law: putting Americans back to work and investing in our roads, bridges, ports, and water systems. It's the largest investment in roads since the Interstate Highway System was built, and the largest investment in rail since the creation of Amtrak.
The Inflation Reduction Act: An investment in our people and our climate that will lower the cost of prescription drugs, lower health care premiums, and deliver the most consequential climate action in global history.
Raise the Minimum Wage
After more than a decade with no increase in the federal minimum wage — the longest period in U.S. history — millions of our nation's workers are working full-time jobs but are still struggling to make ends meet. Worker productivity has risen steadily, yet the share of our national income that goes to labor is near its lowest point in almost 70 years. One in eight U.S. workers are paid wages that leave them in poverty, even when working full time and year-round. And there is now no place in America where a full-time worker making the federal minimum wage can afford to cover the rent for a modest two-bedroom apartment.
That's why I voted for and strongly support the Raise The Wage Act, which would raise the federal minimum wage to $17 by 2028 and ensure fair and competitive wages for all workers including tipped workers, youth workers, and workers with disabilities. Our country's economy has evolved dramatically since the last time the minimum wage was raised more than a decade ago, and American families deserve to see the fruits of their labor reflected in their paychecks.
Ensure Billionaires Pay What They Owe
Instead of working to provide relief for everyday Americans, Republicans in Congress always want to pass bills that make it easier for billionaires and big corporations to cheat on their taxes. When teachers are paying more in taxes than billionaires, something is wrong. I think it's beyond time to ensure that ultra rich and large corporations pay their fair share in taxes. We also need to close wasteful tax loopholes and slash wasteful spending on special interests.
I've supported legislation like the Stop Tax Haven Abuse Act, which would level the playing field between small businesses and large corporations that take advantage of tax loopholes to avoid paying their fair share. I've also voted to make the ultra-wealthy pay their fair share in taxes and I am a cosponsor of the Billionaire Minimum Income Tax. I oppose legislation that raises taxes on families making less than $400,000 a year.
Support For Massachusetts Entrepreneurs and Small Businesses
I also believe we need to invest in our economy here in Massachusetts. My team and I have helped dozens of innovative small businesses in Central and Western Massachusetts, including companies that produce solar panels, high-energy lasers, fuel cells, medical devices, and high-tech prosthetics for returning soldiers.
I voted to provide essential support for local restaurants, which were some of the hardest-hit businesses during the COVID pandemic, by creating the Restaurant Revitalization Fund and then advocating for an additional $42 billion in funding to make sure local restaurant owners had the resources they need to survive the pandemic.
Click here to read more about my recent work to strengthen our local economy and create jobs here in Massachusetts.