PHOTOS: Kennedy Joins McGovern on Western Mass. Hunger March
In Last 5 Years, March Has Helped Provide 729,000 Meals to Massachusetts Families
AMHERST, MA, November 24, 2015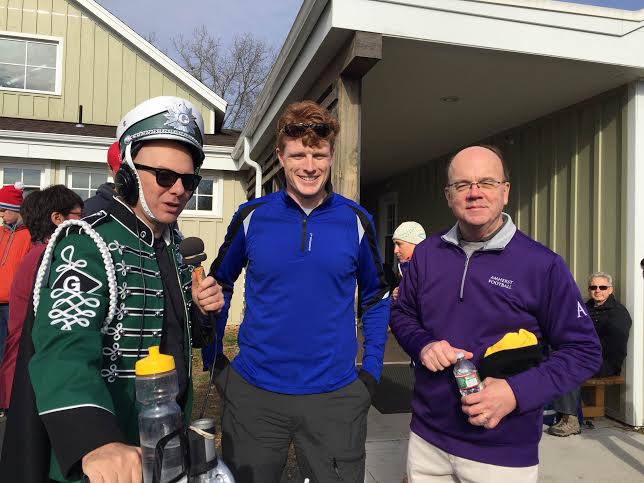 AMHERST, MA – Today, Congressman Jim McGovern (MA-02) was joined by Congressman Joe Kennedy (MA-04) on the 6th annual "Monte's March." Aimed at helping local families in need put food on the table this Thanksgiving, this year's march is the longest yet, lasting two days and stretching 43 miles across Western Massachusetts. Kennedy joined McGovern and the march when the group stopped at the Amherst Survival Center this morning. Click here to view photos online.
"Helping families who have fallen on hard times is what this holiday season is all about. I am proud to have Congressman Joe Kennedy marching with us in this year's Monte's March to help hungry families in Massachusetts," Congressman Jim McGovern said. "When it comes to hunger, it's one thing to talk the talk, but today, we walked the walk. The support shown by our communities in Western Massachusetts has been overwhelming. Thank you to all who joined us in our 43-mile march to help families in need this Thanksgiving."
"No child or family should ever go to bed hungry in our Commonwealth or country. Few have fought harder to eradicate hunger than Congressman McGovern and walking beside him today was a truly humbling experience," Congressman Joe Kennedy said.
In addition to Kennedy, Congressman McGovern was joined today by the founder of Monte's March, WRSI The River radio host Monte Belmonte, Andrew Morehouse, the Executive Director of The Food Bank of Western Massachusetts, local mayors, and other community leaders. Since 2010, the march has been an annual tradition and has already helped provide 729,000 meals to families in need in the last five years.
This year's march will be the longest yet at 43 miles, starting yesterday with stop in Chicopee, Holyoke and Northampton, and continuing today with stops in Hadley, Amherst and Sunderland before ending today in Greenfield.
###